Hi there, Welcome, before you Leave, are you aware that all of our presented information is most useful, instant applicable, absolutely free of obligation or charge? We thought you like to know.




Are you familiar with the Universal

95% - 4% - 1%

law?

Your not alone. So aren't 99% of HR, recruitment, psychologists, coaches, teachers or professionals, in what ever field or discipline. What it means?

95% think, portray, strive to have 'IT'
4% have 'IT' using it by heart, the natural way, yet not fully realizing that
1% truly knows 'IT',by heart, breath 'IT', live 'IT', they have dreamed 'IT' their whole lives, in spite of their surroundings opinions.

Let it sink in for a few moments! It also implies that.....Chance finding that Talent statistically is <3%. Regardless any method currently used by HR, recruitment, psychologists, coaches, teachers, professionals

Any idea what that means in terms of chain consequences? Loss of productivity, confidence, name and reputation damage, reliability. This should make you think. Natural Talent is stronger then education but, both combined?
That's Talent!
Why
NumoQuest®
is so very different?
NumoQuest®

first visualize the natural latent abilities of talent completely independent and non - manipulative. Then

NumoQuest®

compares that with the real history of that
Talent
. If these two are matching? Then you truly have
Talent
. The impact and independence are uncanning for
HR
,
Recruitment
,
C
oaching
.
Professional
and
Self assessment
,
Education
,
Mediation


The best part of it? Making true
TALENT
visible for 99% of all those methods, techniques or ways of assessment aren't able to realize that.
Be the judge yourself, don't take our word for it.

NumoQuest®
is not a medicine or treatment.
NumoQuest®
sole purpose is to make indvidual personal natural latency, capacity and soft skills visible to use in any desired objective.

Exclusion
Excluded for use for individuals with mental defects by nature and in case of use of medication with impact on personality and personal behavior to widest extent.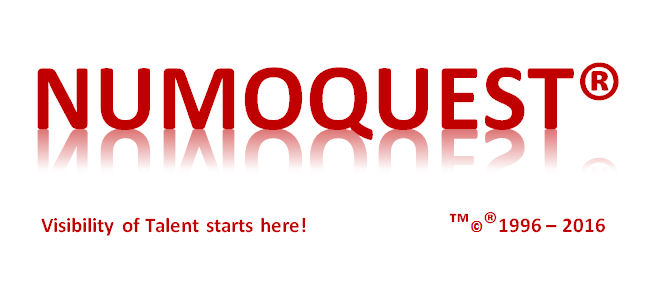 Laws of physics of matter driving IT ICT

Your IT/ICT comes in many shapes, color, disciplines, formats and methods.

Do you know that;

-

99%

of IT

users

and

decision makers

have absolutely

no idea

what the Laws of Physics of IT are all about?
-

75%

of the

IT professionals

and professionals working in IT have

no clue

how damaging they are in any IT design, setup, maintainance or implementation?
-

All

Laws

of Physics beneath ANY IT are

100% predictable

matter?
-

Every damage

encountered in and with IT is for

100% predictable and avoidable

?



NumoQuest™®©
3068GC 88
+31 629 361218
+31 617 155035
info@numoquest.nl